This is your good old friend Epocrates in a great mobile format specifically for the iPhone. Download it from the iTunes AppStore. It is free and does everything you need.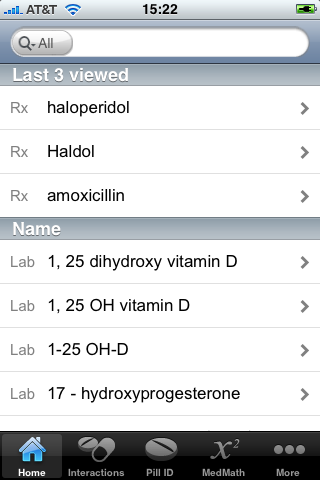 ---
This is your good old friend UpToDate in a great mobile format for the iPhone. Type www.uptodate.com into your Safari web browser on your iphone. Click on begin new search, and it will redirect you to a iPhone specific formatting. At that page, click on the "+" sign at the bottom of the window. Then click "Add to Home Screen". This will add a little UpToDate icon onto your iPhone that will take you to the iPhone UpToDate site when you click on it.
---
DiagnosisPro is an extensive differential diagnosis calculator with both an online version used frequently in attending rounds and a mobile version available for the iPhone as well. Go to http://m.diagnosispro.com on your iphone safari browser and you will be at the customized iPhone interface with diagnosispro. Add that page as a bookmark on your home screen.