The Procedure & Ultrasound Rotation
Despite the removal of procedural training requirements from internal medicine residency programs in the United States, we believe that a robust training and experience with core internal medicine procedures is essential for our residents. Our residents enter a wide array of practices from interventional cardiology, to hospitalist medicine, to rural primary care medicine. Procedural skill is essential in many of those career paths, and will likely become more important in future health care reimbursement models. Accordingly, we have a required first year rotation and a dedicated resident procedure team for training in core internal medicine procedures. The resident bedside procedure team performs over 500 procedures annually and continues to grow. The variety of procedures is not isolated to a single procedure, but reflects the usual internal medicine practice environments.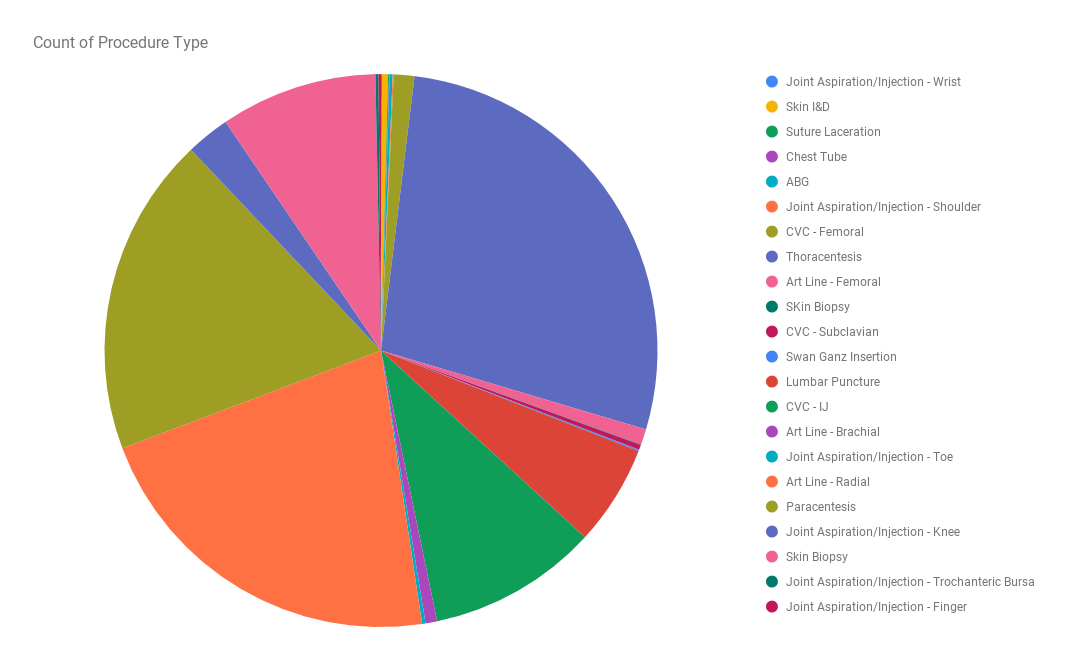 The Procedure & Ultrasound rotation is a required 4-week rotation in the first year of your residency. It was started in 2007 in response to the desire from our residents to have increased exposure to those procedures thought to be important in the armamentarium of a practicing internist and internal medicine subspecialist. The single resident on the rotation goes through a rigorous training regimen consisting of procedural knowledge acquisition, technical skills acquisition, full simulation training on state-of-the-art ultrasound real simulators in the residency's clinical simulation center. Most importantly, the resident performans a large volume and variety of procedures on real patients with 3 dedicated procedure team hospitalist attendings. The average resident 4-week rotation includes 43 procedures.
Throughout all of these steps, the resident is working with one of two dedicated procedure team staff and receives feedback and assessment, assuring competency before moving on to the next level of procedures. There is significant 1-on-1 time between the resident and the procedure rotation staff necessary to adequately teach the intricacies and troubleshooting of the individual procedures.
As you read in the previous section on bedside ultrasound, ultrasound has become standard of care for the performance of many procedures, including central lines, paracentesis, thoracentesis, IV placement, joint injection/aspiration, and anatomically difficult lumbar punctures and arterial lines. During the procedure and ultrasound rotation, residents are trained in the procedural guidance use of bedside ultrasound using the residency's portable ultrasound machines. Our procedure simulators in the simulation center are "ultrasound-real" to give our trainees the most realistic simulation environment.
This rotation also plays a key role in the overall IMBUS bedside ultrasound curriculum and experience as a first year resident. In addition to procedures, it provides 4 weeks of 1-on-1 bedside diagnostic ultrasound teaching with an experienced faculty member on the internal medicine ultrasound team. This team acts as a hospital-wide diagnostic bedside ultrasound consult team answering clinical questions for hospitalists, intensivists, pulmonologists, surgeons, etc. at the bedside.